"Plenty Good Room" for Obama Library
By Mary Pattillo
Published February 3, 2015
In the coming weeks, the Chicago City Council and the Chicago Park District will vote on using roughly 20 acres of South Side parkland for the proposed Obama presidential library. There is no good reason to use parkland. There are plenty of reasons not to. And, as the Negro spiritual says, there is "plenty good room" in which to accommodate everybody.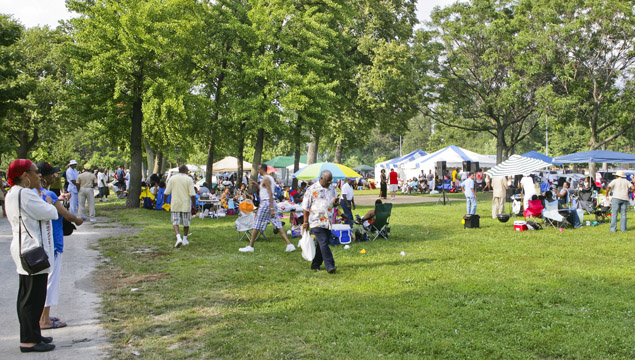 Washington Park, photo © Lucas Blair
I run in Washington Park. There's a bridle path where Chicago's "black cowboys" ride their horses, and where it's very soft on my knees. I also run in Jackson Park in the Woodlawn community on a beautiful track across the street from Hyde Park Academy High School.
On my runs in Washington Park, I pass the older lady who always yells out "How ya doin', baaaby!" and the group of older men whose debates about politics and popular culture are almost as vigorous as their walking pace. In the summer, there are softball leagues, South Asians and West Indians playing cricket, and hundreds of barbecues. And, I swear, half the people have on Obama T-shirts!
In Jackson Park, I loop around the Latino men playing soccer, with their families cheering them on, or high school football teams that practice there.
We love that President Barack Obama still calls Chicago his hometown . Obama's presidential library should be on the South Side — where it would add vitality to blocks and blocks of empty lots. But, instead, the University of Chicago's proposal to use parkland for the Obama library threatens to take away all of the local, unscripted, everyday life and activity I just described. It will curtail the use of the park through what I call the three Ps: perception, permitting and policing.
My research on urban development in Chicago illustrates that how people perceive things in a community matters for how they use them, or not. In the North Kenwood neighborhood, a community health center has struggled to attract clients with private insurance — who think the facility is only for low-income families. And in the same neighborhood, low-income residents thought the now-shuttered Hyde Park Co-op grocery store was for the more wealthy newcomers. South Siders of all types will surely embrace the Obama library and claim it as their own, but its fancy architecture and perfectly landscaped lawns will create perceptions for some people that they shouldn't be hanging out nearby, shouldn't play loud music at the family reunion, shouldn't wear cutoff shorts, or generally shouldn't be there doing what people often do in a park.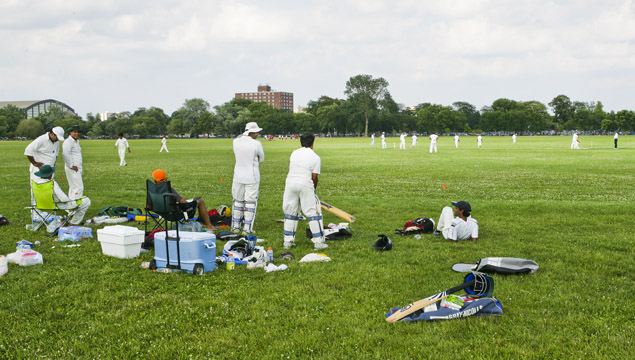 Cricket Players in Washington Park, photo © Lucas Blair
The next step is permitting. A presidential library will add a level of scrutiny regarding the kinds of uses that are granted permits to be in the park. Will the members of the African-American fraternity Omega Psi Phi be able to blast "Atomic Dog," hop, and bark alongside the Obama library at their fraternity picnic? Will UniverSoul Circus get a permit to set up in the park? It draws thousands of families every autumn, bringing with it smells of cotton candy, popcorn, pyrotechnics and horse manure.
And, the final P — policing. The Obama library will surely have tight security. Will littering, loitering, street vending and disturbing the peace escalate into arrests? Washington Park is already among the Top 10 and Woodlawn among the Top 15 communities in Chicago with the highest imprisonment rates. Zero-tolerance policing in either of these parks will add to the unjust burden black communities already bear for our lock-'em-up policies.
And, finally, it's just not necessary. According to the City's Web site, there are over 3.4 million square feet (almost 79 acres) of vacant city-owned land in the Washington Park community area, and over 2.7 million square feet (roughly 63 acres) in Woodlawn, where Jackson Park is located. Of course, all of these lots are not contiguous but anybody who drives through these neighborhoods will know that there is ample space to build a library, and then some. Indeed, the University of Chicago owns an 11-acre vacant lot directly across the street from the Washington Park land it wants to seize. Why take land that is being actively used by parkgoers, instead of building on land not being used for anything?
The Obama presidential library belongs on Chicago's South Side. And so do the black cowboys, the Latino soccer players, the high school football teams, the woman who calls me "Baaaaby," and whoever wants to just hang out with a makeshift cooler and a rickety lawn chair.
Luckily, with the abundance of available non-parkland, there is plenty of good room for all of it.